The Six Best Afterschool Activities in Rockland
Get the Best Winter Activities
Sent to you weekly!
111 Route 303, Suite #113, Tappan, NY
845-365-9000
[email protected]
Bringing the joy & experience of live theatre to children is an honor at Stage Left Children's Theatre. For over 22 years, Stage Left Children's Theatre has had the pleasure of fulfilling their mission of providing local youth with high-quality, innovative, participatory theatre arts training taught by theatre professionals & teaching artists. In this fun, safe & caring environment, students can hone public speaking & teamwork skills, as well as foster talent in singing, dancing, acting & behind the scenes crew experience. In cultivating enthusiasm for the arts at Stage Left, kids gain confidence, self-esteem, communication & social skills, while creating tight knit bonds within the Stage Left family to last a lifetime.

With courses spanning all grade levels, regardless of prior experience, children can blossom & grow in this open and accepting community. In addition to full fall & spring semesters, camp is offered, as well as an audition only big budget Mainstage musical performances each spring that has been wowing audiences for more than two decades.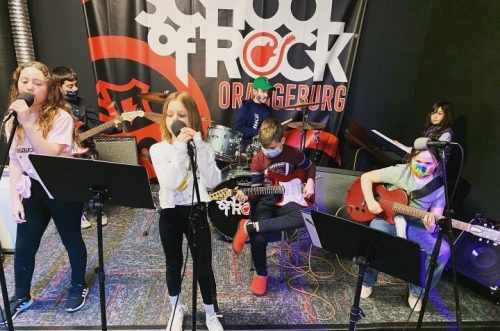 135 E. Erie Street, Blauvelt, NY
845-977-0275
[email protected]
School of Rock is the largest music education company in the world. They teach tens of thousands of students each year around the globe. Their mission is to transform kids' lives through music they love to play. They inspire and challenge their students to work hard and they provide the Classic Rock framework that makes it fun.
The conventional method of music instruction is that you must master musical concepts before you move on to play songs that actually inspire you. Their approach is different. You start by learning to play and perform the songs that inspire you and through that process you will develop mastery of music theory with the added benefit of knowing how to play with others.
This unique approach helps young musicians find themselves, hone their talents and build the confidence they need in their lives. School of Rock is a safe place for kids to learn, develop friendships, and carve out a niche for themselves in a world where they might never have felt a sense of belonging before.
At School of Rock Orangeburg, they teach Guitar, Bass, Drums, Keys, and Voice. Call them at 845-977-0275 to schedule your free trial lesson and tour of the school!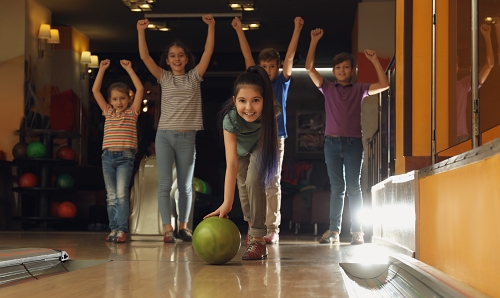 90 N. Main St, New City, NY
845-634-4977
newcitybowlandbattingcages.com
New City Bowl and Batting Cages offers a variety of bowling programs for different ages & abilities. Did you know that bowling is a great way to start your child's college education fund? No tryouts or sitting on the bench, everyone gets to bowl. Fall programs include their new Brandon Smith Junior Gold League- starts Sept 17th, Saturdays 1pm for 8 weeks- win a chance to qualify for a spot in the Junior Gold Tournament and scholarships. Next session will be Fridays 5:15pm starting TBT. Felix Festa league - Mondays 4pm -get bused directly from school to New City Bowl. Starts in Oct. Town of Clarkstown Bowling Program- Wednesdays, Thursdays, and Fridays. Check Clarkstown.gov website for details. Special needs bowling league with coaching- Fridays 3:45pm – Starts Sept 16th. Jr/Adult league Sunday mornings @ 10:30am starting Sept 11th.

When you join a league, you become a VIB member (Very Important Bowler). Join 1 league and bowl for $3.00 a game or join 2 leagues & bowl for FREE when lanes are available. It pays to be a VIB member! For more information about our leagues or parties please call Alice or Jen at 845-634-4977 or visit our website Newcitybowlandbattingcages.com
SPONSORED CONTENT
---
Want more content like this?
---