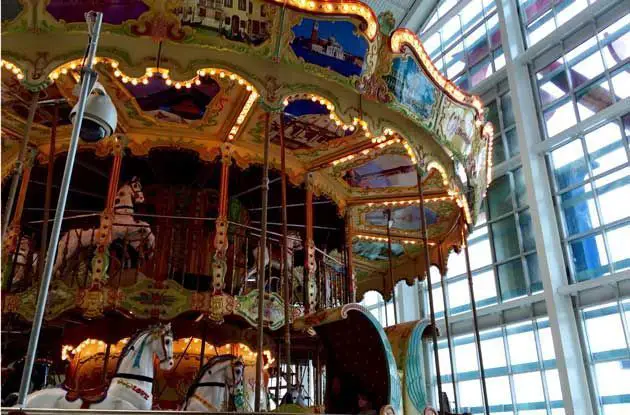 The Palisades Center Mall: A Rockland County Family Activity
Get the Best Family Activities
Sent to you weekly!
Palisades Climb Adventure
The Palisades Climb Adventure the world's tallest indoor ropes course. What that means is that kids and adults can navigate a network of obstacles within five levels of rope configurations, right in the middle of the mall. While climbing you're surrounded by people walking around shopping and gawking at teetering participants on tight ropes and planks. Its a very surreal experience, but was so much fun for us.
My anxiety peaked while we were harnessed, waiting our turn to leave the comfort of the mall floor and step into the climbing structure. Once we entered the course I was relieved, as it felt very safe and solid. We were securely strapped into a seat and chest harness, which connected to a guidable cable. You actually steer this cable along a track as you navigate through the course. The harness is extremely secure and you can't get the device out of the track, so there is really no risk of you falling. In addition, the metal platforms and stairs connecting all five levels provide many opportunities to take a deep breath as you strategize your next obstacle.
The course has varying obstacles and difficulty levels. You choose your own experience as you pick which turns you want to take all along the way. You can do all of the challenges or just portions. In total there are 75 different challenges, including a tremor bridge, tension traverse, a cargo net, two line rope bridge, a vertical rope ladder, an alternating spaghetti hand line and a three line lumber rope bridge.
My 4-year-old daughter surprised me with her level of confidence. She quickly picked up on how to steer the harness contraption, and showed only a little hesitation on her first tightrope walk. After the tightrope she eagerly embraced all of the challenges ahead. The staff commented that younger kids are often braver. In our case this was true, I was definitely more hesitant than she was.
Friendly staff were stationed throughout the course. They were willing to jump in with encouragement and even held some frightened participants hands and harnesses across some obstacles when needed. There was a large age and size range of people on the course.
Tips for Visiting Palisades Climb Adventure
You have to be 42 inches tall to participate in the main climbing course. However, there is a smaller course option for kids less than 48 inches. Guardians have to accompany all minors and anyone under 48 inches.
No one over 80 inches tall (6'8") is allowed on the course, and the maximum weight limit is 300 pounds.
Wear closed shoes. My daughter and I wore regular winter boots and they were fine.
Wear pants or jeans, no skirts or dresses are allowed.
All pockets have to be empty and no phones are allowed out on the course.
They have free small lockers.
There is no place for stroller parking unless someone in your party stays with it.
It takes about 45 to 60 minutes to complete the course.

RELATED: Find sports programs to keep your child active and entertained after school.

More Family Actitivities at the Palisades Center Mall
By the time the ropes adventure was wrapped up it was getting dark and we were ready to call it a day to head home. But not before taking note of all the kid-focused things to do that we still wanted to come back and try at the Palisades Center:
A rock-climbing wall and laser tag at New York Sports Club
Dave & Busters
Lucky Strike Lanes bowling alley
AMC Theatres
Imax Theater
Levity Live Comedy Club
Build A Bear Workshop
Next up for the mall: The world's largest indoor go-karting facility is set to open there soon.

Palisades Mall is a surprisingly fun family destination. We can't wait to return for more adventures…and I have to admit, I can't wait to go back to actually shop.
Never hear 'I'm bored' again with our weekly family-activities newsletter!
---
Want more content like this?
---