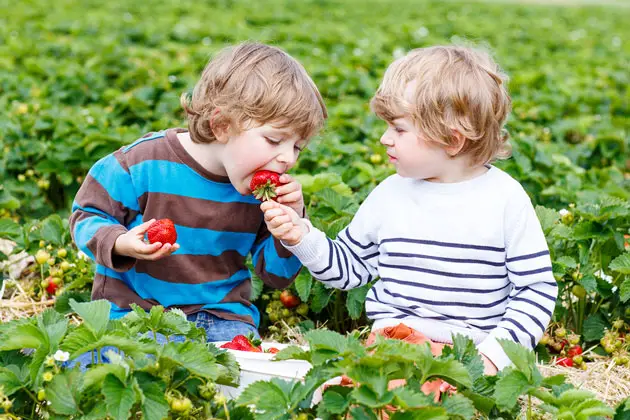 Strawberry Festivals in the NYC Area
It's strawberry season!
Handpicked Spring Family Activities in Your Inbox!
Sent every weekend
Mead Orchards
15 Scism Road, Tivoli
845-756-5641
Hours: Monday-Friday 3-7pm; Saturday-Sunday 10am-6pm
Visit this 180-acre fruit and veggie farm and pick strawberries to kick off the summer with deliciousness! As the summer goes on, other fruits including cherries, blueberries, apples, and plums will be ripe and ready to be picked.

Strawberry Farms on Long Island
Patty's Berries and Bunches
410 Sound Ave., Mattituck
Hours: June-August, 9am-6pm daily
Patty's is the home of more than 24 different varieties of berries. Picking season begins in June, so plan ahead. The farm is 40 acres of beautiful land and luscious fruit. Hit up the ice cream patch for cool treats at the farm. Flavors like sugar snap pea and blueberry bliss are not to be missed!

Lewin Farms
812 Sound Ave., Calverton
631-929-4327
Hours: 9am-4:30pm daily
Lewin Farms was the first pick-your-own fruit and veggie farm on Long Island. Check out the corn maze while picking strawberries, blueberries, raspberries, and blackberries this summer. There is so much lush farmland to take in on a sunny summer day.

Strawberry Farms in New Jersey
Johnson's Corner Farm
133 Church Road, Medford, NJ
609-654-8643
Hours: Monday-Friday, 11am-1pm; Saturday-Sunday, 10am-4pm
Strawberry-picking season begins in mid-May and lasts through early June at this family-friendly farm. Head over on a weekend so you can take in some lively music and enjoy the Strawberry Festival from May 31-June 2! There's food available for an afternoon lunch and hayrides to tour the premises. See the farm animals, too.

Sussex County Strawberry Farm
565 Route 206 North, Andover
973-579-5055
Hours: Monday-Friday, 9am-6pm; Saturday, 9am-5pm; Sunday, 9am-4pm
This family-owned farm is a great spot for picking your own strawberries this season. Pay a visit to the garden center to see a vast selection of flowers and check out the handcrafted rustic furniture from chairs to decorative pieces.
Terhune Orchards
330 Cold Soil Road, Princeton
609-924-2310
Hours: Monday–Friday, 9am-6pm; Saturday–Sunday, 9am-5pm (Pick Your Own is 9am-5pm, daily)
Pick up some yummy strawberries through early June at the family-owned Terhune Orchards. Be sure to visit the farm store with baked goods, gourmet treats, and local honey. There's a vineyard and winery for the adults to delight it and horseback riding for the kiddos. There are 200 acres of fun waiting for your family to enjoy!
Strawberry Farms in Connecticut
Bishop's Orchards
1355 Boston Post Road, Guilford
203-458-PICK (7425)
Hours: TBA
Strawberries are ready to be picked and enjoyed in mid-June and the crop will last until early July. You can also pick tender and juicy blueberries and peaches for a fruit salad to drool over. Enjoy the sunflowers at the orchards in August. And for the adults… a winery!

Ellsworth Hill Orchard & Berry Farm
461 Cornwall Bridge Road, Sharon
860-364-0025
Hours: Monday-Saturday, 9am-6pm; Sunday, 8am-4pm
Enjoy picking your own succulent strawberries starting in June while the kids can marvel at the vintage Lionel model train display. Come late June, the cherries will be ready for picking too. While you're in the area, consider canoeing or fishing nearby.

Jones Family Farms
606 Walnut Tree Hill Road, Shelton
203-929-8425
Hours: Monday-Saturday, 8am-5:30pm; Sunday, 8am-12pm
Pick your own strawberries and blueberries at Jones Family Farms this summer. Give the kids a lifelong lesson with farm education workshops and cooking classes at the Harvest Kitchen. Adults can sip the day away at the winery on the premises. The Jones Family Farms has been in existence for over 150 years and is a special place to spend the day.

Rose's Berry Farm
Farm stand: 1200 Hebron Ave., Glastonbury
Farm: 295 Matson Hill Road, South Glastonbury
860-633-7467
Hours: Monday-Friday, 10am-6pm; Saturday-Sunday, 9am-5pm
Since 1908, Rose's Berry Farm is the largest blueberry farm in Southern New England. Strawberry picking season begins runs from June through July. Come on a Sunday for their Breakfast with a View event running from June 10 through October. Eat on their deck overlooking the fields as you fill your bellies with a hearty breakfast topped with fresh season fruit from the farm.

Scott's Yankee Farmer
436 Boston Post Road, East Lyme
860-739-5209
Hours: 9am-5:30pm, daily
Over 125 acres of fruits and veggies is something not to be missed this summer. Strawberry picking season runs from early June through early July, so be sure to visit when the berries are the juiciest! The farm stands are full of fresh treats waiting for you to bring home to enjoy.

RELATED:
Summer Activities for Kids in the NYC Area
Get Weekend Activities Sent to Your Inbox
---
Want more content like this? Great Family Activities Sent To You!
---